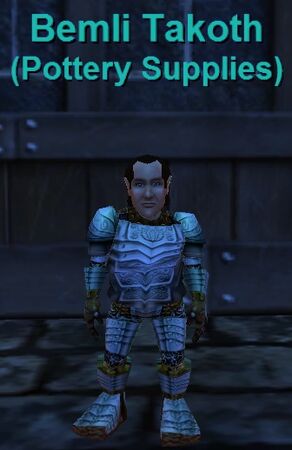 Bemli TakothEdit
Found In:
Plane of Knowledge
Sells:
Animal Template
Barbarian Template
Bowl Sketch
Cake Round Sketch
Ceramic Lining Sketch
Gnome Template
Grimling Template
Idol Sketch
Large Bowl Sketch
Large Jar Sketch
Medium Bowl Sketch
Medium Jar Sketch
Muffin Tim Sketch
Pie Tin Sketch
Pot Sketch
Shissar Template
Skewers Sketch
Small Deity Sketch
Small Grease Jar Sketch
Small Jar Sketch
Smoke Sketch
Sonic Wolf Template
Troll Template
Vah Shir Template
Ad blocker interference detected!
Wikia is a free-to-use site that makes money from advertising. We have a modified experience for viewers using ad blockers

Wikia is not accessible if you've made further modifications. Remove the custom ad blocker rule(s) and the page will load as expected.