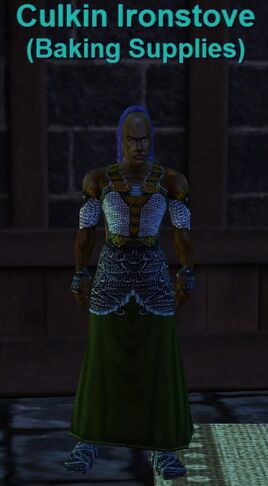 Culkin Ironstove (Baking Supplies)Edit
Located in:
Plane of Knowledge
Sells:
Bottle of Milk
Cup of Flour
Frosting
Garnish
Ice Cream is Good-Part 1
Ice Cream is Good-Part2
Jug of Sauces
Loaf of Bread
Meals Lost in Time
Mixing Bowl
Muffin
Pumpkin Cider Spice
Simple Sausage Casing
Spices
Spit
Vinegar
Ad blocker interference detected!
Wikia is a free-to-use site that makes money from advertising. We have a modified experience for viewers using ad blockers

Wikia is not accessible if you've made further modifications. Remove the custom ad blocker rule(s) and the page will load as expected.