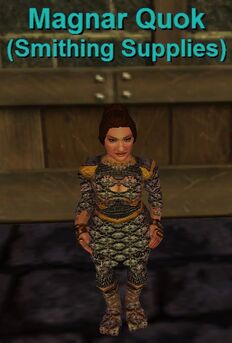 Magnar Quok (Smithing Supplies)Edit
Located In:
Plane of Knowledge
Sells:
Breastplate Mold

Buckler Mold

Field Splinted Cloak Mold

Hilt Mold

Kite Shield Mold

Plate Boot Mold

Plate Gauntlet Mold

Plate Gorget Mold

Plate Greaves Mold

Plate Helm Mold

Plate Pauldron Mold

Plate Vambrace Mold

Plate Visor Mold

Round Shield Mold

Targ Shield Mold

Tower Shield Mold
Ad blocker interference detected!
Wikia is a free-to-use site that makes money from advertising. We have a modified experience for viewers using ad blockers

Wikia is not accessible if you've made further modifications. Remove the custom ad blocker rule(s) and the page will load as expected.