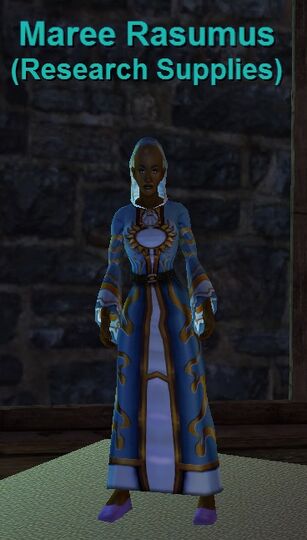 Maree Rasumus (Research Supplies)Edit
Sells:
Al'Kabor Thickener
Ameliorating Thickener
Arcane Thickener
Assuaging Thickener
Cazic's Ink Additive
Charta Arcanum Solution
Charta Arcanum Solution
Conjuring Thickener
Consuming Thickener
Debilitating Thickener
Enervating Thickener
Expatiating Thickener
Extending Thickener
Fine Charta Arcanum Solution
Fine Parchment Solution
Fine Runic Charta Arcanum Solution
Fine Runic Spell Tablet Solution
Fine spell Tablet Solution
Fine Vellum Parchment Solution
Ink of Alacrity
Ink of Ayonae Ro
Ink of Bertoxxulous
Ink of Cazic Thule
Ink of Druzzil Ro
Ink of E'ci
Ink of Forgetfulness
Ink of Innoruuk
Ink of Marr
Ink of Pain
Ink of Prexus
Ink of Rainbows
Ink of Ro
Ink of Saryrn
Ink of Terris Thule
Ink of Tranquility
Ink of Transformation
Ink of Tunare
Ink of Xegony
Ink of Zek
Ink of the Bear
Ink of the Boar
Ink of the Cat
Ink of the Companion
Ink of the Dal
Ink of the Eagle
Ink of the Erudite
Ink of the Listless
Ink of the Monkey
Ink of the Nameless
Ink of the Rathe
Ink of the Rhino
Ink of the Serpent
Ink of the Tribunal
Invigorating Thickener
Mitigating Thickener
Parchment Solution
Quill of the Arcane
Quill of the Arcanist
Quill of the Arch Convoker
Quill of the Arch Lich
Quill of the Archon
Quill of the Coercer
Quill of the Divine
Quill of the Dread Lord
Quill of the Feral Lord
Quill of the Forest Stalker
Quill of the Knight
Quill of the Lord Protector
Quill of the Maestro
Quill of the Prophet
Quill of the Storm Warden
Rough Charta Arcanum Solution
Rough Spell Tablet Solution
Runic Charta Arcanum Solution
Runic Parchment Solution
Runic Spell Tablet Solution
Soothing Thickener
Spell Tablet Solution
Talisman Thickener
Vellum Parchment Solution
Ad blocker interference detected!
Wikia is a free-to-use site that makes money from advertising. We have a modified experience for viewers using ad blockers

Wikia is not accessible if you've made further modifications. Remove the custom ad blocker rule(s) and the page will load as expected.