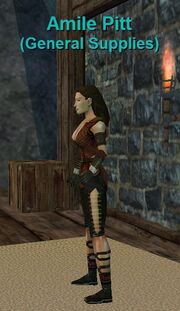 Merchant Amile Pitt:Edit
Amile Pitt is located in Plane of Knowledge just across from the Dogle Pitt, the banker. (This bank is referred to as "small bank" by most adventures). She carries a line of general goods and you can find lots of odd items that other adventures sell to her.
Sells:
Bandages
Bazu Parts Mold
Bazu Water
Blessed Water of Druzzil
Blessed Water of Fennin
Blessed Water of Sarym
Blessed Water of Terris Thule
Bottle
Brother Dreymoon's Meditations
Chronal Parts Mold
Chronal Water
Culturally Inspired Charms
Discordant Parts Mold
Discordant Water
Faycite Water
Fearlinked Water
Large Lantern
Last Blood Parts Mold
Last Blood Water
Mead
Phantasmic Water
Ration
Rennet
Serpent's Water
Small Lantern
Snoworb's Dairy DDiary
Soloist Ascension Water
Soloist Dream Water
Soloist Planer Water
Sunshard Water
Symbol of Derived Unity
Symbol of Mental Unity
Torch
Veiled Water
Wandering Drogard's Brew Book, v1
Wandering Drogard's Brew Book, v2
Water Flask
Water of the Skeptic
Ad blocker interference detected!
Wikia is a free-to-use site that makes money from advertising. We have a modified experience for viewers using ad blockers

Wikia is not accessible if you've made further modifications. Remove the custom ad blocker rule(s) and the page will load as expected.