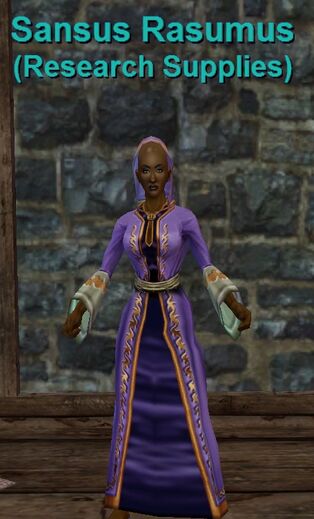 Sansus Rasumus
Edit
Sells:
Arch Magus Grimoire
Binding Solution
Book Binding
Book of Ancient Restoration
Book of Dark Bindings
Cazic's Ink Additive
Charta Arcanum Solution
Crude Binding Solution
Dagger
Doctrine of Wizardry
Elaborate Binding Solution
Elemental Grimoire
Elementary Binding Solution
Enchanted Scrolls
Fine Charta Arcanum Solution
Fine Numen Plaque Solution
Fine Runic Charta Arcanum Solution
Fine Runic Numen Plaque Solution
Fine Runic Spell Tablet Solution
Fine Spell Tablet Solution
Intricate Binding Solution
Ipsor's Enlightenment III
Ipsor's Enlightenment IV
Large Bottle of Ink
Lexicon
Makeshift Binding Solution
Modest Binding Solution
Numen Plaque Solution
On Languages
Ornate Binding Solution
Phantasmal Tome
Piece of Parchment
Quill
Rapier
Raw Crude Hide
Raw Rough Hide
Raw Stiff Hide
Refined Binding Solution
Roll of Good Quality Vellum
Roll of High Quality Vellum
Roll of Plain Parchment
Roll of Superb Vellum
Roll of Vellum
Rough Charta Arcanum Solution
Rough Numen Plaque Solution
Rough Spell Tablet Solution
Rune Binding Solution
Runic Charta Arcanum Solution
Runic Numen Plaque Solution
Runic Spell Tablet Solution
Simple Binding Solution
Sorcerer's Lexicon
Spell Tablet Solution
Systematic Discoveries
Telryd's Expansive Writ
Telryd's Writ
The Scent of Marr
The Wizard's Canon
Throwing Knife
Tiny Dagger
Tome of Endless Enchantments
Warlock's Book of Binding
Wrist Pouch
Zeannor's thesis
Ad blocker interference detected!
Wikia is a free-to-use site that makes money from advertising. We have a modified experience for viewers using ad blockers

Wikia is not accessible if you've made further modifications. Remove the custom ad blocker rule(s) and the page will load as expected.