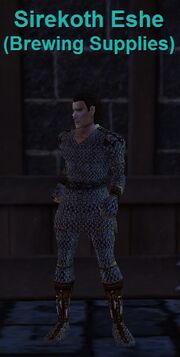 Sirekoth Eshe (Brewing Supplies)
Edit
Located In:
Plane of Knowledge
Sells:
Absinthe Glass
Absinthe Spoon
Barley
Bottle
Cask
Deep fungus Mold
Distilled Spirits
Emerald Tea Leaf
Hops
Malt
Nectar of the Green Fairy
Packet of Paeala Sap
Paeala Bark
Rice
Shotglass
The Drink of Timeless Energy
Wine Yeast
Yeast
Ad blocker interference detected!
Wikia is a free-to-use site that makes money from advertising. We have a modified experience for viewers using ad blockers

Wikia is not accessible if you've made further modifications. Remove the custom ad blocker rule(s) and the page will load as expected.