A small, frail man of great intellect called
Erud
led this group, and he formed them into a council. They quickly became irritated, even disgusted, by their fellow man. Leaving a small network of spies behind, the remainder of Erud's followers fled the city of
Qeynos
and boarded a small fleet of ships. They sailed to the west and landed upon the barren coast of the island of
Odus
. The land was sparse and uninhabited and quite appealing to the council and their people.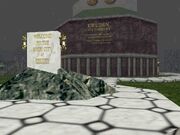 They quickly built a city of their own, dissimilar in almost every way to both Qeynos and Freeport, for it was almost entirely a towering castle. Erudin it was called, and within it the scribes and scholars, who called themselves High Men, gathered and analyzed reports, captured books and scrolls, and other artifacts brought to them by their spies.
The first Human mages since the Combine Empire were born. Wizards, Magicians, and Enchanters occupied the great halls of Erudin and gew immensely in both power and knowledge.
Ad blocker interference detected!
Wikia is a free-to-use site that makes money from advertising. We have a modified experience for viewers using ad blockers

Wikia is not accessible if you've made further modifications. Remove the custom ad blocker rule(s) and the page will load as expected.