Veeshan
, Crystalline Dragon and ruler of the
Plane of Sky
, was the first god to notice the world of
Norrath
. She found this world pleasing and deposited her brood onto the frozen continent of
Velious
.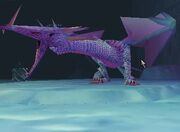 With one swipe of her mighty claws, Veeshan opened several great wounds upon the surface of Norrath, staking her claim to this promising new world. Dragons then walked the land and flew the skies, powerful beings of great intellect, wisdom and strength.
Ad blocker interference detected!
Wikia is a free-to-use site that makes money from advertising. We have a modified experience for viewers using ad blockers

Wikia is not accessible if you've made further modifications. Remove the custom ad blocker rule(s) and the page will load as expected.