The
Iksar
had left the Dragon lands alone, but their threat was easy to see. The Dragon lords convened the
Ring of Scale
and argued about how to proceed.
Trakanon
, the large blue, advocated swift intervention on behalf of all races against the Iksar. However, Trakanon was voted down and the Ring of Scale decided to intervene only indirectly.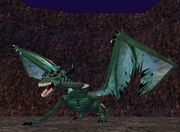 Trakanon and a number of the younger dragons decided more direct action was required. They conjured a squall at sea that destroyed Rile's warship while the King was on board. This action triggered a spectacular war among the Dragons that lasted for almost a half century. Since this Ring of Scale was, in all likelihood, responsible for the capture of our companion, we were understandably curious to learn as much as we could. Vanusk answered only one question with, "There are lesser dragons that fly across Norrath and pluck candidates for slavery to the Ring of Scale."
Ad blocker interference detected!
Wikia is a free-to-use site that makes money from advertising. We have a modified experience for viewers using ad blockers

Wikia is not accessible if you've made further modifications. Remove the custom ad blocker rule(s) and the page will load as expected.