King Sathir
aged, but, of course, he did not want to die. To cheat death, he made an unholy pact with
Innoruuk
to rise, undead and immortal.
Rile
, Sathir's heir, had other plans and thwarted the ritual. Sathir's soul was trapped inside an amulet that was hidden away as Rile cremated his father's body.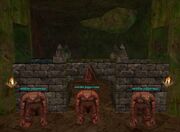 Rile assumed the throne; however, little changed in the kingdom. The son of Sathir seized more valuable land and his ruthless reputation increased under the terrors of his warlords: Kurn Machta and Karatukus and the vampire, Chosooth. By the time these warlords finished, most of the continent definitely belong to Sebilis; all but a few pockets of Giants and Dragons.
Ad blocker interference detected!
Wikia is a free-to-use site that makes money from advertising. We have a modified experience for viewers using ad blockers

Wikia is not accessible if you've made further modifications. Remove the custom ad blocker rule(s) and the page will load as expected.