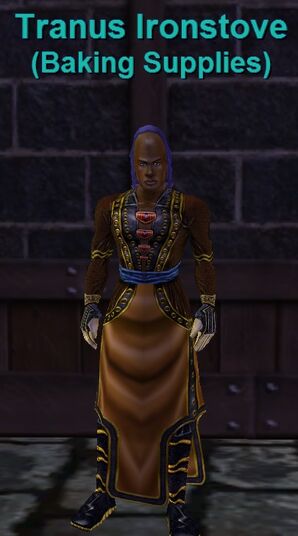 Tranus Ironstove (Baking Supplies)
Edit
Located in:
Plane of Knowledge
Sells:
Binelen's Quick Treats
Binelen's Succulence
Ghumim's Classical Dishes
Ghumim's Delights
Mixxy's Delicacies Vol. 1
Mixxy's Delicacies Vol. 2
Rohand's Edibles
Rohand's Sea Treats
Sorin's Tasty Kills
Sorin's Treats on the Go
Vaashar's Sweet Revenge
Vaashar's Sweet Treats
Xectia's Favored Flavors
Xectia's Hot Pie

.
Ad blocker interference detected!
Wikia is a free-to-use site that makes money from advertising. We have a modified experience for viewers using ad blockers

Wikia is not accessible if you've made further modifications. Remove the custom ad blocker rule(s) and the page will load as expected.